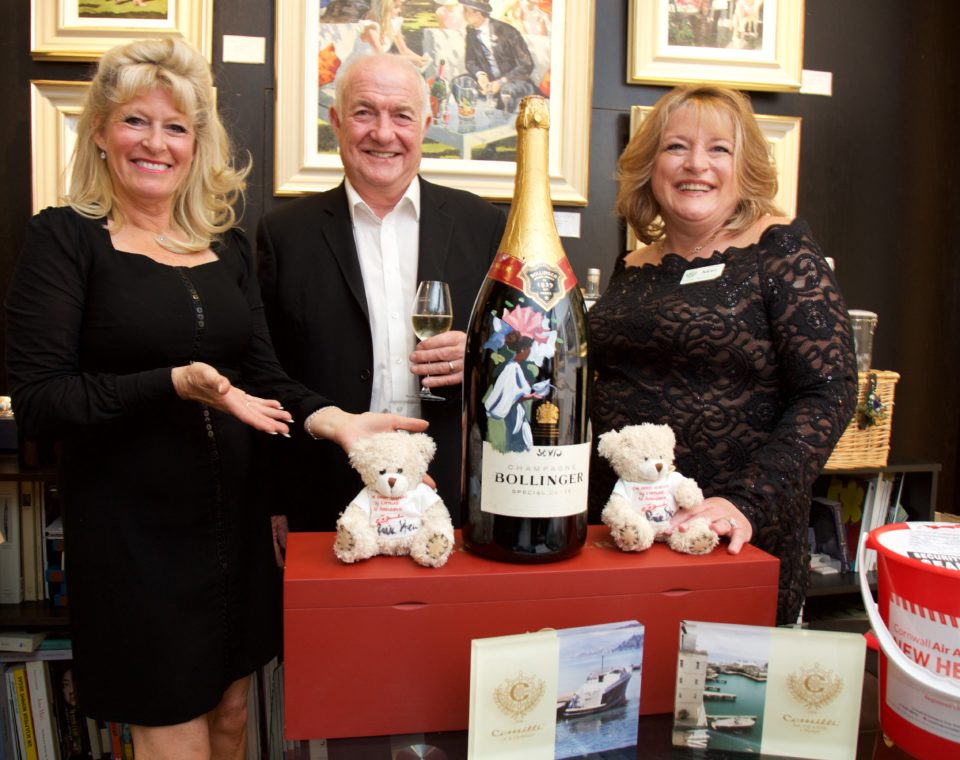 Art auction raises over £95,000 for the New Heli Appeal
Rick Stein was the guest of honour at a glittering and prestigious exhibition and auction of the work of Sherree Valentine-Daines which took place in London recently.
Sherree's collectors came out in force for the New Heli Appeal fundraiser, which was held at the prestigious Clarendon Art Gallery in Mayfair.  Comitti Boats, Bollinger and Ferrari showed their support for the event, which raised over £95,000 for the appeal.
Debbie Henshaw, Fundraising Manager- Philanthropy, said: "We are grateful to everyone who helped behind the scenes and who purchased the stunning paintings, of which some of the commission was donated to the charity. The event had the most amazing auction prizes and we thank everyone for their support."
Cornwall Air Ambulance Critical Care Paramedic, Lisa Ball, spoke to guests about her role on the aircrew, while former airlifted patient, Harriet Eastwood, told her story of survival.
The fundraiser was the brainchild of entrepreneur & philanthropist Dr Karen Dickens, supported by her new company Comitti Boats UK & Caribbean.
She said: "I am delighted that we've been able to bring the amazing talents of Sherree Valentine-Daines and Rick Stein together. It's an amazing charity with an incredible team, not only making such a difference to patients but also to their families and friends."
Rick Stein CBE, chef, restaurateur, author and TV presenter, said: "I've been involved in Cornwall life since I graduated in the late 60s, and we spend much of our working life in the area with our restaurants shops and hotels in Padstow, so I'm well aware the impact the Cornwall Air Ambulance Trust has across the region.  All of us know someone whose life has been saved, and given the county's isolated beaches and challenging roads, it is considered a lifeline by residents and visitors alike.  I'm delighted to be involved in this fundraising event so we can raise awareness and much needed funds for the new helicopter, and in turn help save more time, and more lives in Cornwall."